Salmon River Driftboat Trips
(315) 298-2500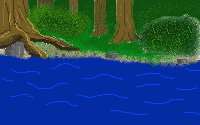 The Salmon river is certainly what brought driftboats to the Lake Ontario region. Although we use them in the Black and Oswego rivers and even a few "secret" places. Most are limited areas and don't offer the miles(over 13) of floatable water and scenic beauty like the big Salmon.
Some anglers wouldn't book a drift trip or would specifically ask for a streamside trip. Many think drift trips are for back trolling with diving plugs only. Although we find using plugs a challenging and effective method, it is certainly not the only thing we use our driftboat for!


Greg Lewis from Vermont with a 15lb. 33" steelhead
Caught and Released - December, 1999.

A driftboat is basically a water taxi. It allows us to cover much more water during a day. Which can make a huge difference! You want to spinfish? Flyfish? not a problem. We will even provide top quality rods & reels.
If you're the type who likes to feel the water rushing against your waders, just let us know and we will beach the boat at each hole while you wade & cast.
We use our driftboat from mid-Sept. to mid-May. There are times however due to low water or concentrated fish, that we go to one area by foot instead of using the boat.






[email protected]
(315) 298-2500
for booking or other info